Statement
I have always been fascinated by the infinite potential that metals offer and the opportunity of transforming their original properties and aspect in order to stretch the scope of what can be achieved.
I avail myself of antique goldsmith techniques that have almost fallen into disuse, such as niello and granulation, personalizing them in order to give my work a distinctive character. I work with precious metals, combining them with other metals such as iron, copper and brass.
I apply niello to the surface of the metal so that it is completely covered. In this way, the preciousness of the metal disappears leaving way to a dark, rough surface. Through the use of heat, I achieve cracks and clots resulting in surfaces that seem battered and ill-treated, resembling ancient relics.
My work is based on spontaneity and instinct. I try to transfer everyday emotions into my jewellery in an impulsive way. This method allows me to develop works that are unique and sculptural. I endeavor to use the same sort of approach as I do when painting and often treat the surface of the metal as a canvas. This instinctive approach is counteracted by the precise, geometric forms that I use, whereby everything seems to be brought back into place.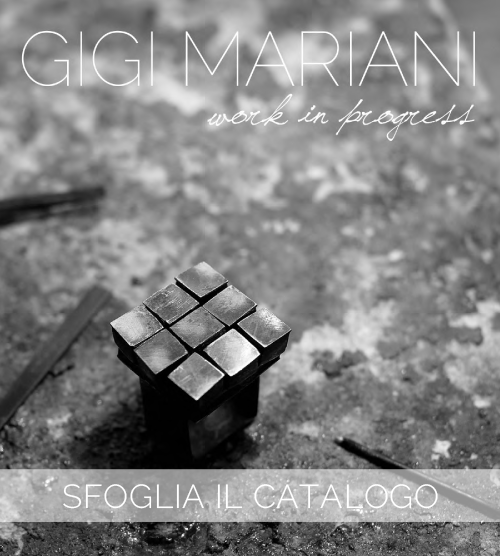 Statement
Il mio lavoro si può suddividere in due momenti, uno progettuale e quindi una base di lavoro classica, dove sono presenti alcuni aspetti ricorrenti nel lavoro di oreficeria, come la costruzione con lastre quindi la saldatura, le cerniere e le chiusure a scatto. Un lavoro lento e pensato tipico dei lavori dell'oreficeria. E una seconda parte, quella più informale, che dà spessore all'oggetto e lo caratterizza, utilizzando antiche tecniche come l'applicazione in modo materico del Niello o la Granulazione oppure le ossidazioni. Queste texture nascondono la preziosità del gioiello (preziosità perché io solitamente utilizzo metalli preziosi). Diciamo che la base, ossia il gioiello, la utilizzo come un pittore utilizza la tela per esprimere propri concetti ed emozioni.
Negli anni ho coltivato la passione per la pittura, informale segnica, materica, dove il colore o un segno rappresentano un'emozione o particolare stato d'animo. Ecco cercavo qualcosa di analogo anche in oreficeria e l'ho trovato utilizzando le tecniche del Niello, la Granulazione o le ossidazioni in modo pittorico, informale. Un utilizzo che cambia l'aspetto dei gioielli e li rende unici. Quindi un aspetto tecnico e un aspetto artistico, un mix che credo possa rendere riconoscibili i miei pezzi. Alla fine saranno pezzi unici, perché, anche se ripetibili, essendo costruiti tutti a mano non saranno mai uguali uno all'altro, a causa di piccole differenze di rifinitura e per l'uso del Niello, pensato in questo caso come colore e dal risultato finale sempre differente.